Xandor Wrote:

I can't post his picture, but you know him. David Duchovny. I was a HUGE X-Files fan.:biggrin:
When I was 17 (and considered myself bi then rather than lesbian) I got to watching a guy's X-Files tapes and ended up masturbating to the thought of getting it on with both David Duchovny and Gillian Anderson (Dana Scully). Though even then I focused more on Gillian and even when I imagined doing stuff with David a big component of the arousal was imagining Gillian getting off on watching. In retrospect I should've realized I leaned more toward girls even then. Still, the crush on both lasted only a few months.
Oh well, since I replied I guess I'll share my celebrity crushes...
Bif Naked
Joan Jett
I'm also a big fan of TiBette (from the L Word), and I find Jennifer Beals (who plays Bette) very attractive, though some of the interviews of Laurel Holloman (who plays Tina) I've seen and read make me think I could get along with her really well. Anyway, here's a pic of Beals at the top and Holloman at the bottom: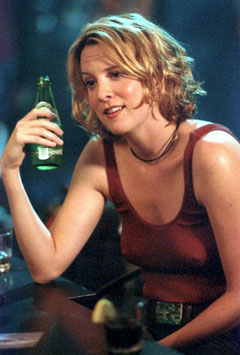 I've got some saved TiBette YT vids ranging from the saccharine sweet to sexy but as I can't decide which one I'd want to show as an example I'll skip.