A strong central Chinese government has always tried to control the periphery surrounding the Han core based in the Yangtze/Huang He valleys and the coast of the South China Sea. That includes the Tarim basin, the oases and roads around it and the passes through the Tien Shan mountains leading to Central Asia.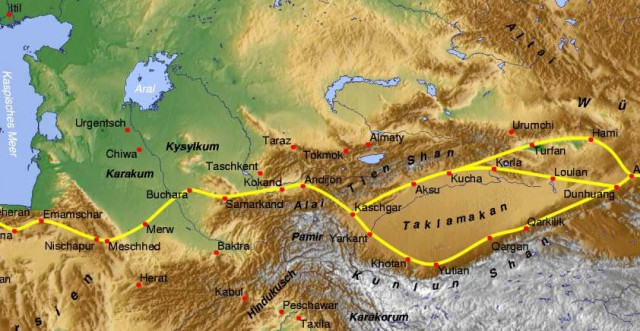 This anchors the borders in defensive mountain ranges, provides depth to protect the Han core (ergo, the extensive farmlands and the major population centers) from external invasion from the continent (failed with the Mongols, but hey, ya can't win every time son) and gives access to and control over the trade routes that made up the Silk Road and are now being revived 10-fold in PRC's current Belt and Road Initiative. 
So, it has been millennia old Chinese policy to control the area (along with many other in their periphery) of modern day Xinjiang and the people that live in it. Whenever the Chinese polity breaks into pieces, it loses the periphery, when it puts its shit back together, it regains its periphery. 
Now, add to this a nationalistic overly centralized one party system in the form of the CCP and now you have a dominating class of ethnic Hans that attempt, as all dominating people in systems like it have done before and since, to homogenize the inherently diverse population. I would assume the goal is to forcefully create a 19th century style nation-state because that is far easier to dominate. For the CCP, the means to do this has been to "promote" the use of Mandarin over all other languages spoken within Chinese borders (think of Tsarist Russification policies for a simile). Move Han people from the coast inland, move these inland minorities East, making the use of Mandarin mandatory in education, rewarding Mandarin speakers in job opportunities, etc, etc, etc. Whatever you think of, China has done it. Unlike other minorities, though, the CCP groups Muslims together, regardless of their native language, which is not something China does with any other people, so people in Xinjiang maybe particularly targeted. 
Now, the CCP used to be more lenient about it at one point, but not so much now, and certainly not under Xi Jinping, who has really gone towards the more classically totalitarian aspects of an autocratic one-party system. Enter these "re-education" camps. Very Maoist of him. But it's nothing new, nothing unheard of and certainly nothing the other Great Powers are blind to, I think. 
Question is, what are the big players willing to do about it? Because as far as I can tell China has never been seriously challenged over its lackluster human rights records by any of the countries that have any weight to do so. How do you up and turn on a country so entangled in world trade without disrupting it? How do you get a veto-wielding UN Security Council permanent member to comply to...anything? 
I don't know.