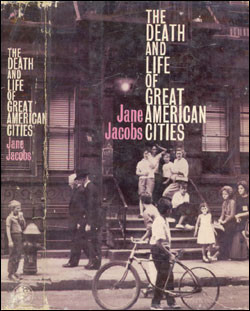 Today is the 100th birthday of one of my favorite people ever - Jane Jacobs. In case you never heard of her, she was an author and activist who focused in urban studies and is very famously known for going against, and helping to bring about the downfall of, perhaps the most powerful man in NYC history - city planner Robert Moses (who is also a person I am completely fascinated by). But her work extended far beyond NYC, and the messages in her writings and her life can be applied to much more than just urban neighborhoods and communities.
I won't nerd out on you guys and give a lecture about urban development and cities, or NYC history and NYC contemporary issues, or Robert Moses and Jane Jacobs and all that, but this kind of stuff is a huge passion of mine. Rather, if anyone is interested in taking a break from describing the person above you and talking about what gets you hard, I'd like to start a conversation and ask some questions about what you think about your own cities, neighborhoods, and communities. You don't have to answer all of them, or any of them at all. But here are some questions to maybe get some ideas going:
How would you describe where you live? What is the general vibe of you area? Is it rural, suburban, or urban? Whats the pace of life?

What do buildings look like there? Are they old, new, a mix? Are areas mixed use, or restricted to one type of thing (residential, commercial, industrial)?

How do people act there? Are people friendly? Is there tension? Why is there tension? How diverse is your area? What is the street life like, or is there a street culture at all? On the streets do you mostly encounter people you know or strangers?

Would you describe your area as successful? What makes a neighborhood or community successful? Does your area seem to be in a place of growth, decline, or neither? How different is your area in the morning, in the afternoon, in the evening, and at night?

What are the best parts of your area? What makes it unique, desirable? What are the biggest challenges you see facing your area or community?

Whats something that's changed that you miss? Whats something that has changed that you are excited about?

Whats your primary mode of transportation around your area? How much time do you spend on the street? Do you know your neighbors? Are there businesses in your area that you shop at? Do you feel connected to your community? Do you feel safe walking in your area? Why or why not?

If you could be the mayor of your area, what would you change? What would you fight to keep?

Do you feel optimistic about whats ahead?