Hervé Guibert was a French writer and a photographer. He was gay and died of AIDS in 1991.
Guibert is one of my favorite authors (though not for his fiction), and his works I especially love are
Le Mausolée des amants
(
The Mausoleum of Lovers
), and
À l'ami qui ne m'a pas sauvé la vie
(
To the Friend who Did Not Save My Life
).
His
The Mausoleum of Lovers
is one of the most genuine and unique works I have ever read. I'm hoping some of you have heard of his work ( [MENTION=1766]princealbertofb[/MENTION] , maybe?), but in any case I'm bringing it up as a recommendation. He ranks there among the greatest artists that ever were.
As for his photography, I find he has a signature very much recognizable as him at a glance.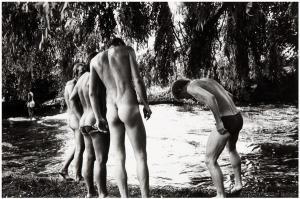 he took a lot of autoportraits which can usually be seen on the covers of his books:
a very beautiful man, in my opinion.
''Do I look civilized to you?''