Stevie Wrote:. . . I wonder reading your posts whether or not your parents knew internally, like the gut feeling I had inside that knew I was gay, about you. It certainly seemed like your father might have known at some level. They always say "mother's know", and maybe the intuitive ones do, but it doesn't prevent them from being evil, or burying their head in the sand and pretending life is wonderful.
Well, like I said, in those days no one SPOKE of such things. I have no idea what my parents knew or didn't know, or may have suspected. Frankly, I just don't think my parents (and family in general at the time) even *thought* about such things.
I'll give you an example:
When I was 17 or 18 I approached my mother and this is how the conversation went:
"Mom I have something I need to tell you."



"Oh? What is it?"



"I think I'm gay."



"What makes you think that?"



"Well, I like boys better than I do girls."



"Oh, I wouldn't worry about it, I've always liked women better than I liked men."
:eek:
I could have pressed the issue but when you get a reply like that from a parent it is a clear signal they're in denial and prefer to stay that way. I didn't know words like "denial" but I got the gist. Besides, I didn't really want to tell her anyway. I knew it would just lead to vast complications of an already difficult relationship.
But my mother was like this. I recall one time when I was much younger being concerned I was going crazy. This is because I frequently had "mystical" experiences as a child and kid. (They began to decrease in frequency when I was a teenager and I seldom have them at all now.)
Anyway, one time I was worrying about it and the conversation went like this:
"Mom I think I'm going crazy."



"OH, honey, you're not crazy,

you just see things that aren't there

."

As for my dad, he was a very closed off and shut down. He had depressive episodes. Truth be told, he and I are a lot alike. I'm not as harsh and insensitive as he was. He may have sensed my sexuality but that was so deeply buried, I doubt he even thought of it. I was the baby in the family, 10 years younger than my closest sister. I think this had a lot to do with my dad's perpetual irritation with me. I believe he was angry with himself and my mother for having gotten pregnant.
But, I was an "odd" child. It is very difficult to say how much of my "oddness" was due to my sexuality or vise versa. From his POV I was from another planet. That was my take on the situation as well. I had no idea who these people were or why I was amongst them. Biologically I was clearly their progeny but in terms of the way I looked at the world and thought about things and experienced things, I was an alien being.
Quote:. . . I think we all have a fairly good idea what would have happened to a police car, even a campus vehicle, being held hostage in the name of civil disobedience in this day and age. It wouldn't be pretty. Images of Tiananmen Square are brought to my mind . . .
Well, eventually things got out of hand as you may know. By May, 1969, the UC Berkeley campus and the city of Berkeley were under siege by 3,000 national guardsmen.
Sproul Hall (where the vehicle had been surrounded) five years later, in 1969:
Students sit in protest outside Sather Gate, UC Berkeley Campus:
Original caption: 5/20/1969-Berkeley, California- The "ladies" are on the outside looking in as this group of female dissidents face bared bayonets of the National Guard who posted a picket line at the Sather Gate entrance to the University of California campus. 1,500 demonstrators were dispersed when they held an illegal rally.
Students were often engaged in "stand offs" with the National Guard.
They even took over the down town section of Berkeley.
Violence erupted along Telegraph.
Shooting at the roofs:
Alan Blanchard was shot: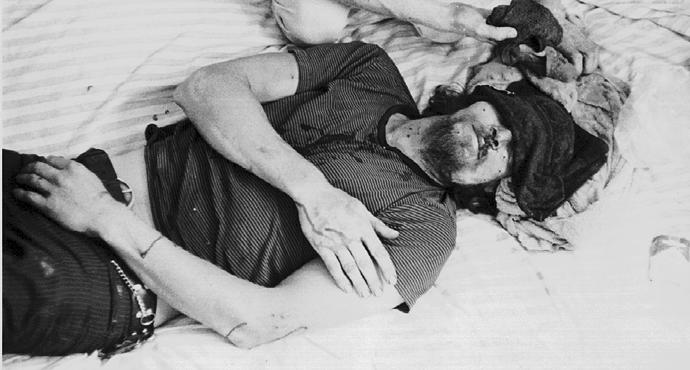 James Rector was shot and killed: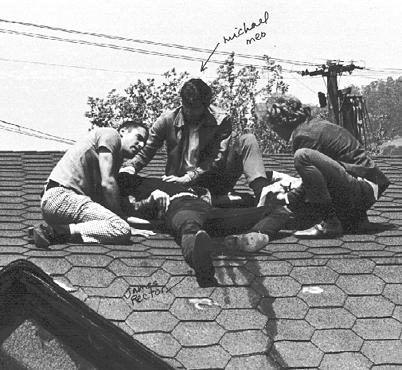 At one point the governor, Ronald Reagan, had the campus sprayed with tear gas from a helicopter:
In protest some students wore gas masks in their caps and gowns when they attended their graduation commencement. Three hundred students walked out of the proceedings.
.