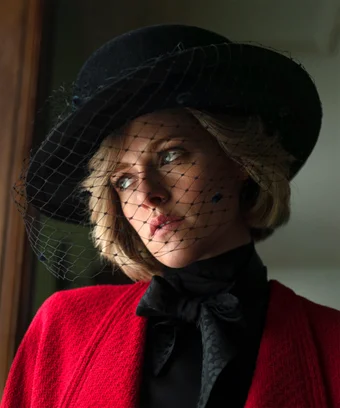 When news broke that Kristen Stewart had been cast to play the late Princess Diana in a biopic, there was a mixed reaction. But the first look of Stewart as the People's Princess might be enough to change even the most sceptical of minds.
Simply titled Spencer (after Diana's family name), the forthcoming film will see Stewart playing the beloved royal at a pivotal time in her life — the days before she decided to officially end her marriage to Prince Charles. Set during Christmastime in 1991, the plot follows what should have been a standard holiday weekend at the royal's Sandringham Estate. But for Diana, the events of the getaway only fuel her desire to part ways with Charles and the rest of the Royal Family.
The first official image of Stewart as Diana has finally been released, and fans are struck by how accurate the Charlie's Angels actress' portrayal of the princess appears to be on first sight. From Diana's signature blonde bob to the faraway look in her eyes, Stewart appears to have at least nailed the royal's aesthetic.
"Kristen is one of the great actors around today," explained Spencer's director Pablo Larraín (Jackie) to Deadline when his leading lady was first cast last summer. "To do this well, you need something very important in film, which is mystery. Kristen can be many things, and she can be very mysterious and very fragile an ultimately very strong as well, which is what we need. The combination of those elements made me think of her. The way she responded to the script and how she is approaching the character, it's very beautiful to see. I think she's going to do something stunning and intriguing at the same time. She is this force of nature."
While many modern retellings of Diana's story tend to focus on her origin story or final years leading up to her tragic death, Spencer will focus on that pivotal Christmas weekend. Larraín believes that the film will highlight the gravity of Diana's choice to leave Charles, grounding it in her infinite love for her sons William and Harry.
"The key is how she discovers during the process of the movie that what she really needs to do is be who she wants to be," the director told Deadline. "And by that, it doesn't mean she needs to be next to anyone, to be part of anything, but herself and her own children. Diana was many things, but chief among them, she was a great mother. This is the story of a woman who understands the most important thing for a woman in her life is her own children."
Filming for Spencer will begin soon, sending Stewart and her unidentified cast members to Germany and the U.K. for production. An official release date has not been set, but distributor NEON is reportedly looking to premiere the drama something this fall, a year before the 25th anniversary of Diana's tragic accident at the Pont de l'Alma tunnel in Paris, France.
Note: No trees were destroyed in the sending of this contaminant free message. However, I do concede, a significant number of electrons may have been inconvenienced.