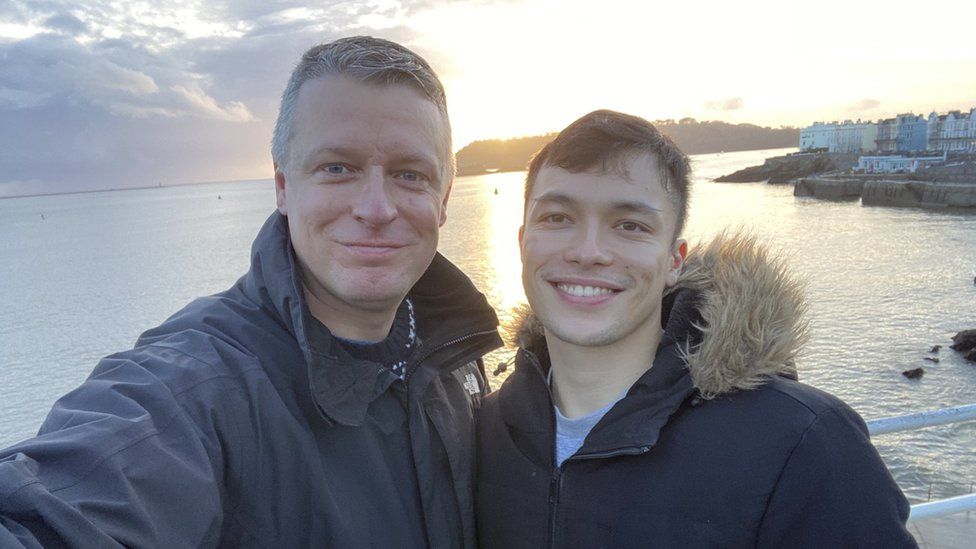 Luke Pollard says he and his partner Sydney have "an amazing relationship"
Labour MP Luke Pollard is facing homophobic trolling on social media after posting a photo of himself and his boyfriend to mark Valentine's Day.
Luke Pollard, an openly gay MP for Plymouth Sutton and Devonport, took to social media on Sunday (14 February) to post a selfie with his partner.
He wrote: "Happy Valentine's Day to my lovely boyfriend! X"
The post attracted dozens of homophobic responses from far-right trolls focussed on an apparent "age gap" between Pollard, 40, and his boyfriend, who appears to be in his mid-to-late 20s.
One comment branded Pollard a "dirty Labour nonce", while another read: "He looks 12 years old, you should be locked up."
Thankfully, plenty of people flooded the post with messages of support for Pollard, with many calling out the veiled homophobia and stressing that there's absolutely nothing odd about a relationship between two consenting adults.
"Age gap" criticism is often targeted at gay men to perpetuate homophobic tropes, with many responses noting that prime minister Boris Johnson, 56, never faces similar abuse over his 32-year-old fiancée Carrie Symonds.
One Twitter user wrote: "The comments under this photo really suggest this country hasn't progressed much since the '80s. Gay men shouldn't have to deal with this."
Another response quipped: "Love all the straight people replying shocked that not everybody settles down with the first boring person they date".
One joked: "Replies to this clearly showing that straight men have no idea about skincare".
So far, Pollard has risen above responding publicly to any of the abuse.
It is not the first time the Labour MP has been targeted.
Ahead of the 2019 election, in which Luke Pollard faced a challenge from the notoriously anti-gay Ann Widdecombe, the candidate's office was repeatedly vandalised with homophobic graffiti.
"It makes you feel exasperated, really. It's horrible when you're being targeted because of who you fall in love with rather than being scrutinised for what's actually in your policies."
He was defiant in refusing "to let any bigot make me into a victim", instead focusing on the countless constituents who have stood against the hate, helping him to clean the graffiti off the windows and bringing cake to his office to show support.
The Labour MP also offered to "sit down with the person who vandalised my office to talk" about their concerns.
He added: "If you're angry enough to vandalise an office, let's see if you're brave enough to sit down and have that conversation."
Note: No trees were destroyed in the sending of this contaminant free message. However, I do concede, a significant number of electrons may have been inconvenienced.