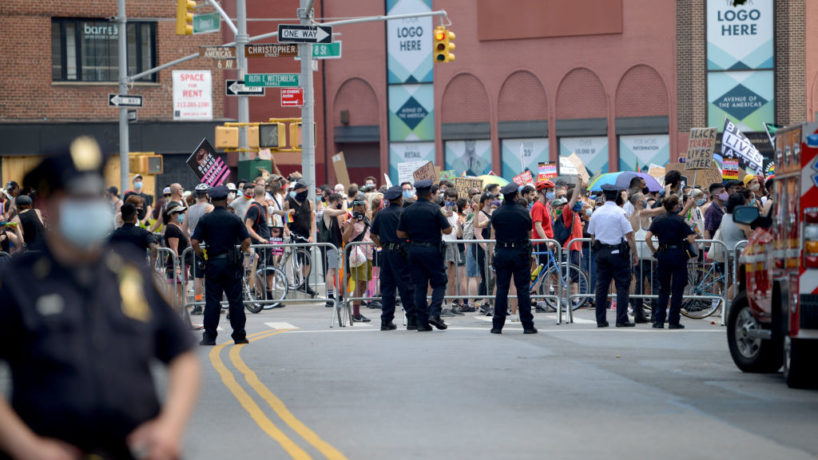 NEW YORK, NEW YORK - JUNE 28: A view of NYPD officers blocking off a street in the West Village during the Queer Liberation March for Black Lives & Against Police Brutality on June 28, 2020 in New York City. Due to the ongoing coronavirus pandemic, this year's Pride march had to be cancelled over health concerns. The annual event, which sees millions of attendees, marks its 50th anniversary since the first march following the Stonewall Inn riots.
NEW YORK CITY PRIDE PARADES BAN COPS – EVEN GAY COPS
Organizers of New York City's Pride events said Saturday they are banning police and other law enforcement from marching in their annual parade until at least 2025 and will also seek to keep on-duty officers a block away from the celebration.
In their statement, NYC Pride urged members of law enforcement to "acknowledge their harm and to correct course moving forward."
The sense of safety that law enforcement is meant to provide can instead be threatening, and at times dangerous, to those in our community who are most often targeted with excessive force and/or without reason," the group completely without merit or substantiating facts.
No Cops… Unless We Need Them…
Police will provide first response and security "only when absolutely necessary as mandated by city officials," the group said.
What If You're A Cop AND You're Gay?
The Gay Officers Action League said in a release it was disheartened by the decision.
The group called the ban an "abrupt about-face" and said the decision "to placate some of the activists in our community is shameful."
The Police Are Coming Anyway, So There!
Detective Sophia Mason, a spokesperson for the New York Police Department, said: "The idea of officers being excluded is disheartening and runs counter to our shared values of inclusion and tolerance. That said, we'll still be there to ensure traffic safety and good order during this huge, complex event."
Mock n' Daisy have more in the clip below.
Note: No trees were destroyed in the sending of this contaminant free message. However, I do concede, a significant number of electrons may have been inconvenienced.