Child's Play creator Don Mancini is excited to explore new worlds with the horror icon.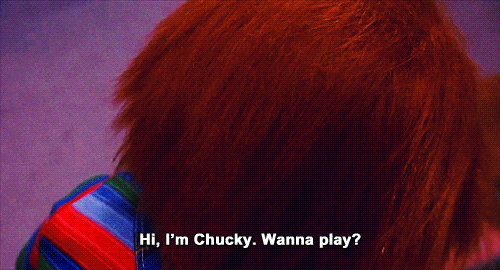 Chucky's ready to play!
Horror icon and killer doll Chucky is coming back for an all-new TV show on Syfy called The Legacy of Chucky, and he'll be joined by a gay main character.
At
[email protected]
, series creator Don Mancini, a gay man, revealed that the protagonist of the series will be a gay teen named Jake Weber who is struggling with his sexuality while growing up in a small town.
"One of the things that fans always loved about the original movies is that the protagonist was a kid, it's called Child's Play," he said. "It's something we hadn't done that much of since Child's Play 3, but I wanted to switch it up. I thought focusing on young teens would be a new twist and to see how Chucky interacts with them."
Focusing on a teen also gave Mancini a chance to explore his main character's sexuality.
"There are lots of great scenes between Zach Arthur as Jake and his friend and crush Devon Evans (played by Bjorgvin Anarson)," he said.
Anarson is also excited to bring a new dimension to the films. "You know the cool thing about this series is that it's got all this scary stuff, and even has a lot of heart," he said.
Legacy of Chucky will also star franchise mainstays like Brad Dourif as the voice of Chucky, Jennifer Tilly, Alex Vincent, and Christine Elis. It's set to debut on Syfy and the USA network on October 13, a fittingly spooky date.
The Chucky series has long been a camp favorite for many gay horror fans. Apart from the fabulous premise of a doll with a serial killer's soul trapped inside, the franchise also has featured self-aware dialogue throughout, and gay and gender-nonconforming characters since Bride of Chucky in 1998.
Each of the seven films in the franchise (not counting the Aubrey Plaza-starring 2019 reboot) have been written by Mancini. He also directed Seed of Chucky, Curse of Chucky, and Cult of Chucky, all of which explore gay themes.
Note: No trees were destroyed in the sending of this contaminant free message. However, I do concede, a significant number of electrons may have been inconvenienced.