Im not only a member of Assholes Anonymous, Im the founder and President.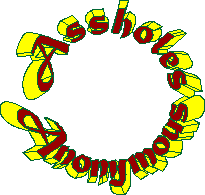 (This was posted before, but it has been closed, so I thought I would repost.)
We are a club of human beings who are constantly called
Assholes
for one reason or another, even though we aren't.
We see things as they really are...in real life. We don't live with our heads in the sand or up our asses. We don't "sugar coat" the truth, but we DO have consideration for others.
We "tell it like it is" simply because we just do not have the time or patience to be putting up with all the "politically correct" bullshit this country has drowned itself in.
And for these reasons we are called assholes.
You take us as we are, fallible, honest, no bullshit, tell it like it is human beings.
Or you know where the front door is....use it.

Im

PROUD

to be an Asshole!!
[IMG]http://4.bp.blogspot.com/_DUehJWZLUhU/SqAjhSHgebI/AAAAAAAAAiw/Q6OO1N-QkbM/s400/Congrats!+You're+An+Asshole.png[/IMG]