Are you shitting me? No thread about Sonic the Hedgehog?! :eek: Here it is! :eek: This is no definitive or comprehensive thread about this blue hedgehog. He is best documented elsewhere.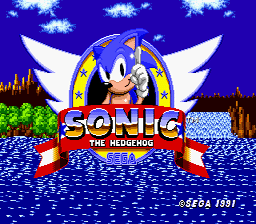 Sonic the Hedgehog (Sega Mega Drive/Genesis) was released on June 23, 1991. This game changed the video gaming world forever. This was pretty much a game like Super Mario Bros, except this was much faster. Gamers were looking for a fast-paced game and Sonic the Hedgehog was the game. A year later, Sonic the Hedgehog 2 was released. This time it featured the spin dash move and Sonic's sidekick Miles "Tails" Prower. After Sonic 2, Sonic 3 was released. This game had state of the art graphics and this was the introduction of Knuckles the Echidna. Sonic & Knuckles was released later and you were able to combine this game with Sonic 2 or Sonic 3 and you were able to play as the echidna.
Throughout the years, Sonic starred in several games. His look was revamped (pictured above) sometime in the late 1990's. A new generation of gamers got to know Sonic through Sonic Adventure. This was an outstanding game with amazing and state of the art graphics. It was released for the Dreamcast and it would later be on Nintendo's Game Cube. What?! Sega makes games for Nintendo now?
The inevitable happened... Sonic and Mario clashed. They appeared together in a game for the first time ever. This was a huge and historical moment. This was Sonic and Mario at the Summer Olympics (Wii). Then Sonic would appear as a secret character in Super Smash Bros Brawl (Wii), which pretty much buried the Mario vs. Sonic hatchet.
That's pretty much it! My opinions on Sonic the Hedgehog now... yeah, he's the best video game character ever. He is a lot better than that spaghetti slurpin' S.O.B. Mario.
I have played played most of the Sonic games released for the Sega Genesis. However I never got a chance to play the rest. Hopefully, I play those games with the one I love.