So you survived the Klowns? Well this next series is sure to send you childish nightmares!
Night 2!
Childs Play Series
Series Bio
Childs Play 1
Gunned down by Detective Mike Norris (Chris Sarandon), dying murderer Charles Lee Ray (Brad Dourif) uses black magic to put his soul inside a doll named Chucky which Karen Barclay (Catherine Hicks) then buys for her young son, Andy (Alex Vincent). When Chucky kills Andy's babysitter, the boy realizes the doll is alive and tries to warn people, but he's institutionalized. Now Karen must convince the detective of the murderous doll's intentions, before Andy becomes Chucky's next victim.
Childs Play 2
Two years after serial killer Charles Lee Ray (Brad Dourif) inserted his soul into a Chucky doll, a toy company attempts to re-create the doll, bringing Ray back in the process. The possessed doll, intent on claiming a human body, kills his way toward former owner Andy (Alex Vincent), who now lives in a foster home. Andy's foster sister, Kyle (Christine Elise), tries to protect him, but his foster parents believe Andy is just a troubled kid -- and Chucky's murderous path continues.
Childs Play 3
It's been years since Chucky, the doll with the soul and the voice (Brad Dourif) of a psychopathic killer, was apparently destroyed in a fire at a doll factory. Now Chucky's manufacturer is remaking the same line of toys with the old, still haunted materials. This resurrects Chucky, who goes after Andy (Justin Whalin), his former owner, who now attends military school. Chucky slashes his way through a string of grotesque murders as Andy tries to stop the homicidal doll and the spirit within it.
Bride of Chucky
After being cut apart by the police, killer doll Chucky (Brad Dourif) is resurrected by Tiffany (Jennifer Tilly), an ex-girlfriend of the serial murderer whose soul is inside the toy. Following an argument, Chucky kills Tiffany and transfers her soul into a bride doll. To find the magical amulet that can restore them both to human form, Chucky and Tiffany arrange to be driven to New Jersey by Jesse (Nick Stabile) and Jade (Katherine Heigl), who are unaware that their cargo is alive.
Seed Of Chucky
Gentle Glen (Billy Boyd) is a ventriloquist's dummy, the offspring of evil doll Chucky (Brad Dourif) and his doll bride (Jennifer Tilly), both of whom are now deceased. When the orphaned Glen hears that a film is being made about his parents, he goes to Hollywood and resurrects them in an attempt to get to know them better. He is horrified when Chucky and his lover embark on a new killing spree, and Chucky is equally horrified that his son has no taste for evil.
Curse Of Chucky
Set twenty-five years after the first film, Chucky (voiced by Brad Dourif) mysteriously arrives in the mail of the home of paraplegic Nica Pierce (Fiona Dourif) and her mother Sarah (Chantal Quesnel).
Trailers
My Thoughts
Childs play has always been one of those movies you shouldn't have seen growing up... But it was well worth it to see a movie start in the 80s and still stand strong up against newer horror movies. My fav would have to be bride of Chucky and seed of Chucky, I'm a really big fan of Tiff and Glen/Glenda. Tiff is such a strong woman and odd character from her bubbly voice to kick ass white dress and black leather jacket, She is one kick ass doll! Glen is also a different character from Chucky, Their son Glen (who also goes by Glenda when stressed) Isn't at all like their murderous father or mother. Glenda, Glens sistar is trapped inside of Glen which imo is somewhat of what our Trangendered friends deal with. So i am overjoyed that we have a little hint of lgbt in this movie!
Fun Facts
The Role Of Tiffany Was Specifically Written For Jennifer Tilly
The date on which Charles Lee Ray put his soul into the Good Guy doll - November 9, 1988 - was also the day Child's Play hit theaters.
Chucky's Full Name is a Combination of 3 Infamous Serial Killers
Chucky was Originally Written as a Manifestation of Andy's Rage
Pics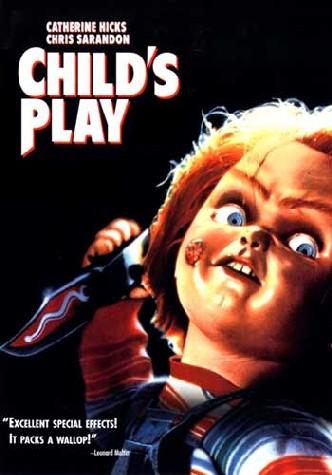 [IMG]http://www.elaach.com/images/Poster-English-Movie/Child's%20Play%204.jpg[/IMG]