Ewan McGregor and

Christopher Plummer 

in Beginners, the most Googled gay film in US.
An old axiom holds that all politics is local. Apparently the same is true for movies.
Shane Co.–the fabled jeweler who provides the diamonds & gold for hundreds of same-sex weddings–celebrated pride season by delving into their Google Trends to compile some of the most popular LGBTQ movies, broken down by state. The results may surprise.
Who'd have thought that an underground film like The Watermelon Woman would prove the most popular in Tennessee? It delighted us to learn that the awesome comedy Tangerine transfixed the Googlers of Arizona. Or that Larry Kramer's The Normal Heart would transfix conservative Alabama?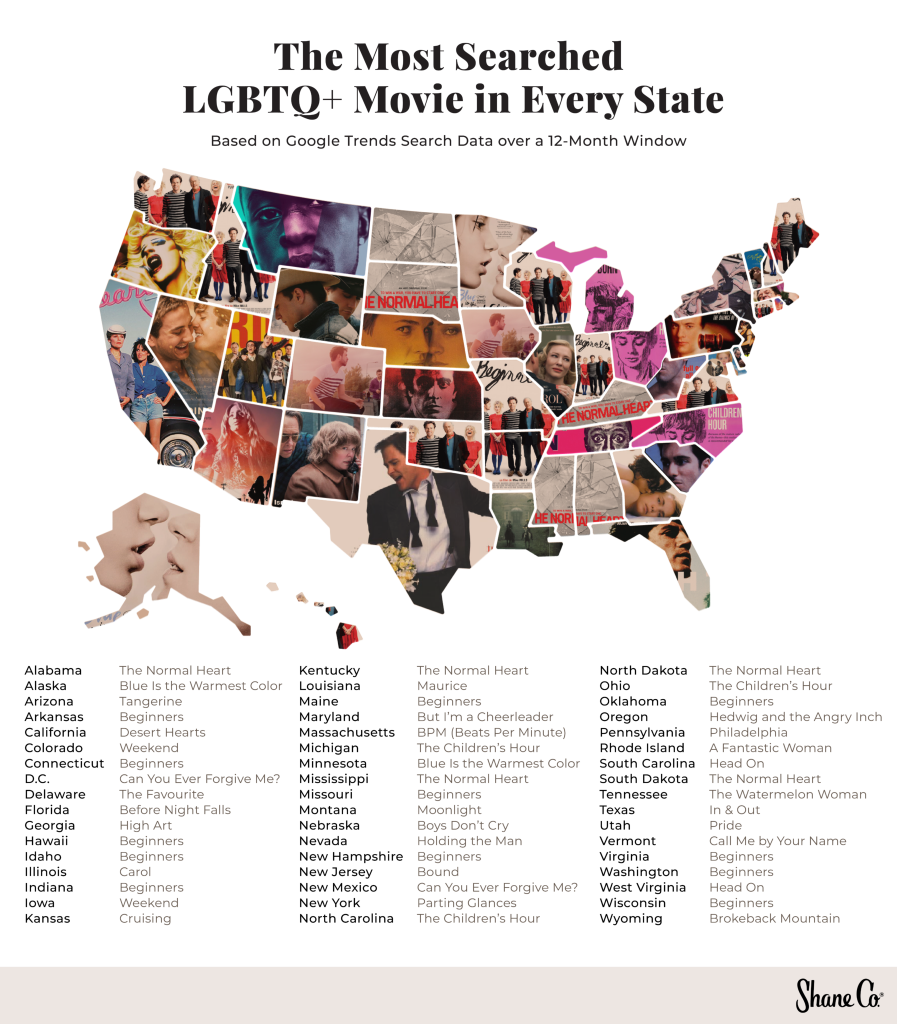 Courtesy of Shane Co.
1. Beginners
By far, the most searched title on this list belongs to Beginners, the excellent drama which nabbed Christopher Plummer an Academy Award. The 2010 film casts Plummer as a gay man coming out in his final years and focuses on his son's (played by Ewan McGregor) efforts to make sense of his new life. The film topped the searched list in 12 states, including Virginia, Washington, Hawaii, and Wisconsin.
https://www.amazon.com/gp/product/B005QG2DOO
2. The Normal Heart
The screen adaptation of writer Larry Kramer's touching play about the AIDS crisis scored the top spot in five states, including Alabama, Kentucky, and Mississippi. Strange that a movie about New York would prove so popular in the South. Then again, why not?
https://www.amazon.com/gp/product/B00MLY7RP4
3. The Children's Hour
This 1961 film starring Audrey Hepburn and Shirley MacLaine landed in the top spot in Ohio, Michigan, and North Carolina. The story deals with two women running a children's school who become the subject of allegations of lesbianism. Said charges especially rattle one of the women, who comes to question her sexuality.
https://www.amazon.com/gp/product/B000RLAPLQ
4. Blue is the Warmest Color
This French drama about two young lesbians proved searchable. The film earned criticism for some viewers for being an informed man's take on lesbianism. Nevertheless, the film scored rave reviews for its acting and intensity.
https://www.amazon.com/gp/product/B00HTJ6PHM
5. Can You Ever Forgive Me
Props to the District of Columbia and New Mexico for making this awesome comedy their most-searched-for title. Melissa McCarthy and Richard E. Grant both scored Oscar nominations for their work as a lesbian forger and her Oscar Wilde-like accomplice. Both should have taken home the statue too.
https://www.amazon.com/gp/product/B07KC2JJPJ
6. Head-On
We're not sure how this obscure 1998 drama found such a following in West Virginia and South Carolina, though if we had to bet, we'd guess it might have something to do with the steamy scenes.
https://www.amazon.com/gp/product/B07W6T11DT
7. Weekend
Iowa and Colorado had a sneaker for this British romance from director Andrew Haigh. The movie follows a hookup turned romantic as two young men meet for casual sex, only to find themselves falling in love. Maybe its popularity speaks to the number of viewers in those states that have also had a weekend they'll never forget.
https://www.amazon.com/gp/product/B0090EHLUY
8. 23-Way Tie
From there, the stats land in one gigantic statistical tie, as 23 states most Googled unique titles, ranging from the predictable (Brokeback Mountain, Hedwig & The Angry Inch) to the obscure (High Art, Holding the Man) to the influential (The Watermelon Woman). The biggest shocker: that the leather bar-set thriller Cruising–which is often derided for its homophobia–would land the top spot in Kansas. Seriously?
https://www.amazon.com/gp/product/B00I94X87Q
Note: No trees were destroyed in the sending of this contaminant free message. However, I do concede, a significant number of electrons may have been inconvenienced.